Freedom MAIL Center
Let Freedom Ring!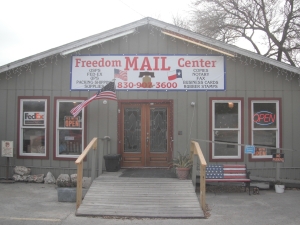 Welcome to Freedom MAIL Center!
The most trusted shipping, personal mailbox and mail supply shop to cater to the
Canyon Lake, TX area
and across the country.
Excellence
Experience +
Customer Service =
4.8 Stars on Google
Convenience
Our Customer First Approach = Freedom of Convenience
Speed
Life is Too Short
Don't Wait in Long Lines
Preparation
All the Shipping Supplies You Need in One Place
What We Offer…
FedEx, UPS and Postal Service Shipping
Free Packaging
Personal Mailboxes
Licensed Notary
Office Supplies
Peace of Mind & Convenience
NEW*** Color Copies
NEW*** Bulk Shredding
Hours of Operation
Monday – Friday
8:30 A.M. – 5:30 P.M.

Experience Today the Difference of …
Freedom MAIL Center